Online and Free Coloring Pages for Kids, Children, and Toddlers: Unicorn with Mushrooms. Welcome to our free website where creativity and fun go hand in hand. We are dedicated to providing high-quality online coloring pages to paint and free drawings to color that are designed specifically for kids, children and toddlers. Our commitment to professionalism ensures that you will find a unique free collection of online coloring pages and drawings that you won't find on any other online coloring website for kids and toddlers.
Online coloring pages for toddlers with animal drawings: Baby giraffe
At our website, we believe in offering drawings to paint of the highest quality. That's why our free coloring pages for kids and toddlers are meticulously crafted with attention to detail. Each design is original and created by our team of talented artists. We take pride in providing a diverse range of themes, including our online unicorn coloring pages for toddlers, animals, food and princess drawings for kids, free Christmas painting pages for children and much more for boys and girls.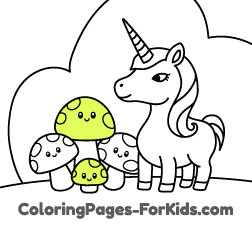 Free unicorn drawings to paint for toddlers and young kids: Unicorn with mushrooms
We understand the importance of offering a user-friendly online experience, which is why navigating our free website is effortless. You can easily browse through our collection and select the unicorn drawing with mushrooms theme to paint. What sets us apart is our commitment to providing a free platform for children and toddlers to express their creativity. We firmly believe that every kid deserves access to our high-quality coloring pages without any barriers. That's why our free website offers a vast selection of online pages and drawings to paint that can be enjoyed by all completely free of charge.
Free princess drawings to paint for children: Princess riding a horse
Painting not only provides an online delightful pastime but it also offers numerous benefits for the children's development. It improves fine motor skills, hand-eye coordination and concentration. Moreover, it allows kids and toddlers to express their emotions and explore their imagination in a soothing and engaging manner. Watch as your child's artistic skills flourish and their imagination takes flight with our captivating free unicorn drawings to paint and online coloring pages for kids and toddlers.
Online unicorn coloring pages for young kids: Unicorn at sunset