Welcome to our free drawings to paint website dedicated to providing a comprehensive collection of online and free coloring pages specifically designed for kids, children, and toddlers. Our platform offers a safe and secure environment for young kids to engage in creative activities from any device ensuring a delightful experience for toddlers and children. Within our vast assortment of online coloring pages, we present an exquisite free drawing to paint featuring a unicorn against the captivating backdrop of a sunset. These enchanting illustrations to paint for kids and free coloring pages for toddlers are bound to captivate the imagination of children inviting them to embark on a magical journey filled with vibrant colors and artistic expression.
Online animal coloring pages for kids: Little lion
With a wealth of experience in creating online drawings to paint and free coloring pages catered to toddlers we continuously strive to evolve and grow. Our commitment to excellence drives us to continually enhance our free drawing collection offering an ever-expanding array of high-quality online coloring pages for young children, kids and toddlers. We take great pride in curating content to paint that is not only visually captivating but also educational, striking the perfect balance between entertainment and learning.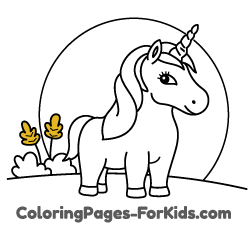 Online unicorn coloring pages for toddlers to paint: Sunset
By engaging with our meticulously designed online drawings to paint and coloring pages children can embark on a journey of artistic expression while simultaneously acquiring knowledge. They can explore various themes to paint and coloring pages for toddlers and kids to color, such as unicorns, princesses and animals, allowing for a seamless integration of play and learning. Our aim is to provide a platform that nurtures the development of young minds fostering their intellectual growth in a joyful and engaging online manner.
Free princess drawings for toddlers to paint: Princess riding at sunset
Unleash your creativity and let your imagination soar as you paint these marvelous online unicorn drawings for children, kids and toddlers. Regardless of whether you are a toddler, a young child or a little girl we have a plethora of captivating drawings to paint and free coloring pages for kids tailored to your preferences, all readily available for free and accessible online. Enjoy the best free unicorn drawings to paint and all our online coloring pages for kids and toddlers.
Online Unicorn coloring pages for children: Unicorn with sunflower