Our online coloring pages are professionally designed to provide high-quality free painting games that guarantee a delightful coloring experience for kids, young children and toddlers. We take pride in offering the most popular and widely played online coloring pages worldwide with the coolest free drawing pages to paint. From beloved princesses to enchanting landscapes, our online drawings to paint collection for toddlers includes a wide range of themes that capture the imagination of kids and children of all ages. Among our featured images, you'll find the captivating scene of a princess riding in the sun drawing for toddlers radiating joy and warmth.
Online Christmas drawings to paint for young children: Girl with little tree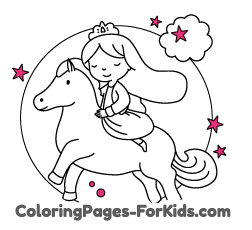 Free Princess coloring pages for young children: Princess riding with sun
Coloring pages online is not just a fun pastime for kids and toddlers; it also offers numerous mental health benefits for young children. As they engage in free activities, they develop and improve their fine motor skills, concentration and creativity. It's a healthy and enjoyable way for young children and toddlers to express themselves and explore their artistic abilities. With our unique online drawings to paint safe online platform and the numerous benefits of coloring, you and your child or toddler are in for an unforgettable free experience.
Free princess coloring pages for young kids: Princess writing
Our commitment to providing top-quality free coloring pages and online princess drawings to paint for toddlers extends to our continuous growth and expansion. We are constantly adding more and better coloring pages to our collection for kids and young children, ensuring that there's always something new for toddlers, boys and girls to discover. Our goal is to keep children entertained and engaged with our online and free coloring pages and drawings to paint. Our painting free site is built with advanced security features, ensuring that kids can play without any concerns.
So, get ready to have a blast while exercising your kid's brain. Let their creativity flow as you bring these delightful online princess coloring pages to life. Join us on our pages free site and embark on a colorful journey filled with imagination, joy and countless opportunities for artistic expression. Get ready to enjoy the best online and free princess coloring pages for kids, children, and toddlers. Let the fun begin with the coolest free drawings to paint.