Online and free princess coloring pages for kids, young children and toddlers. We are committed to continuously growing and improving our free collection of coloring pages and drawings to paint for young kids, boys and girls. We believe that every child deserves access to high-quality and diverse options, which is why we offer our online coloring pages and princess drawings to paint completely free of charge and available online.
Online Christmas coloring pages for young kids: Santa's house
Our extensive range of free coloring pages to paint for kids and toddlers features various themes and beautiful images of princesses. Whether your child or toddler is a fan of classic fairytales or modern princesses, they will find something captivating to color. Our collection is sure to delight young princess enthusiasts. We provide a beautiful and extensive color palette for painting drawings. Your child can choose from a wide range of vibrant hues to bring their online princess drawing pages for kids, toddlers and young children to life. With just a click, they can experiment with different colors and shades, allowing their artistic expression to flourish.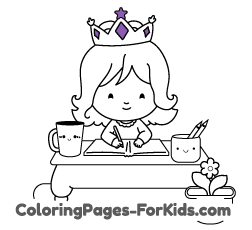 Free Princess coloring pages for young kids: Princess writing
One of the advantages of our online coloring pages for kids and our free princess drawings to paint for toddlers and young children is the convenience they offer. With just a few clicks, your child or toddler can access a plethora of free options to paint without the need for physical books or supplies. It's a hassle-free way to keep toddlers entertained and engaged online, whether at home, on a road trip or during quiet moments.
Online princess coloring pages for children: Princess cooking
Online coloring pages for kids and toddlers are all the rage. Let your child embark on an exciting journey of creativity and imagination as they explore our vast collection of free princess drawings and coloring pages. With our commitment to providing high-quality, free and convenient resources we aim to make coloring a delightful and enriching experience for kids, toddlers and young children. Start drawings online today and witness the joy and satisfaction that comes from creating beautiful masterpieces with just a few strokes of a virtual brush. Enjoy the best and coolest free princess drawings to paint for toddlers and online coloring pages for kids and young children.