Online drawings to paint and free Christmas coloring pages for kids, young children and toddlers. We are dedicated to providing high-quality online coloring pages that offer both free entertainment and educational value for toddlers and young kids. Our professionally crafted designs are unique and can't be found on any other online coloring page or free Christmas drawing site for kids and young children. We understand the importance of striking the perfect balance between play and education. That's why our online coloring pages are not only fun but also help develop creativity and color recognition in young minds.
One of the highlights of our free coloring page site is the beautiful and extensive color palette available for painting online our drawings for toddlers. Children can choose from a wide range of vibrant colors to bring their free Christmas drawings to life. Whether it's Santa's red suit, the green Christmas tree, or the colorful ornaments there are endless possibilities to explore our coloring pages.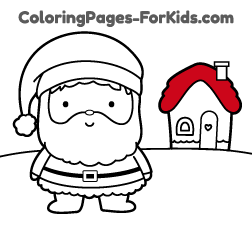 Online Christmas coloring pages for young children: Santa's house
Our free collection of unique online coloring pages for kids and Christmas drawings to paint for young children and toddlers captures the essence of the holiday season. Kids can immerse themselves in a world of festive cheer as they color elves, reindeer, Santa Claus and more. These exclusive illustrations and online drawings to paint are designed to evoke the magic and joy of the best time of the year and for all the toddlers.
Online Christmas drawings to paint for young kids: Elf and cat
Using our coloring pages for kids and toddlers' site is incredibly easy and convenient. Simply browse through our gallery of Christmas coloring pages and free drawings to paint, select the one that catches your eye and start playing online. There's no need to worry about messy art supplies or running out of paper. With just a few clicks, your child or toddlers can engage in creative play and produce beautiful artwork. Whether it's a quiet afternoon at home or a fun activity during the holiday season our online coloring pages and free Christmas drawings to paint provide endless entertainment for young kids and toddlers.