Online coloring pages and free princess drawings for kids, young children and toddlers. We are constantly growing and adding more high-quality online coloring pages to our collection to ensure that you always have something new and exciting to enjoy. We offer a variety of themes including unicorn drawings to paint, animals, food, princesses, online Christmas coloring pages and much more. Whether your kid is a fan of majestic unicorns or adorable animals, they will find something they love on our free site.
Free Christmas drawings to paint for young children: Reindeer
Our online coloring pages and princess drawings for kids and toddlers have become a major trend as they offer convenience and accessibility. You can easily access our online painting site from any device with an internet connection, making it possible to enjoy free coloring pages for young kids and toddlers anytime and anywhere. No more worrying about misplacing books or running out of paper. With just a few clicks your child or toddler can dive into an online world of colors and creativity. Join us on the coolest drawing-to-paint free site and watch as your child grows and develops their artistic skills.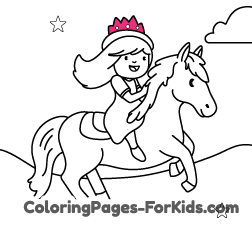 Free Princess drawings for toddlers and online coloring pages to paint: Princess riding a horse
As your child explores the world of online coloring pages and princess drawings they can also learn about the meaning behind colors. Blue represents calmness and tranquility, while green symbolizes nature and growth. Encourage your child or toddler to paint and discover the significance of different colors as they bring their pages to life. The princess riding a horse online coloring page is always a free popular choice allowing children and young kids to create their own enchanting world.
Free princess coloring pages for young kids: Riding in the sun
Coloring is not only a fun activity, but it also provides numerous benefits for kid's young minds. While engaging in our free site, children and young kids exercise their creativity and concentration. It's a fantastic way for toddlers to express themselves and explore their imagination. So, while your little ones have a blast painting their favorite princess drawings to paint, they are also giving their brains a great workout. Enjoy the most beautiful online coloring pages for children and free drawings to paint for young kids and toddlers.