Enjoy our online drawings to paint and free Christmas coloring pages for kids, children and toddlers. We are proud to present a unique collection of Christmas coloring pages that you won't find on any other website offering online coloring pages for kids and free drawings to paint for toddlers. With our team of talented designers, we have created original designs that will spark your child's creativity and provide hours of fun.
Free Christmas coloring pages for kids, children and toddlers: Reindeer. We offer a beautiful and extensive color palette for your children and young kids to paint online. They can choose from a wide range of shades to bring their reindeer masterpieces to life. Whether they want to stick to traditional colors or explore more adventurous combinations with Christmas drawings, our palette for kids and young children has it all. Let their imagination run wild as they create unique and vibrant reindeer characters. Start coloring pages online today and witness the magic that comes from combining creativity, education and the spirit of Christmas.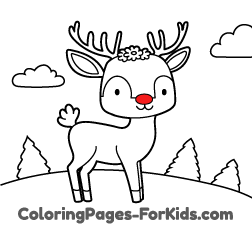 Online Christmas coloring pages for toddlers: Reindeer
The holiday season is a magical time and our online Christmas-themed coloring pages for kids and toddlers capture that spirit perfectly. Alongside the adorable reindeer, we have a variety of other festive free drawings to paint for children, including elves, Santa Claus and more. Your child or toddler can explore the enchanting world of Christmas as they color these charming free drawings to paint. Each online drawing for kids and toddlers tells a story and sparks the imagination making it the perfect free activity for the holiday season.
Online Christmas coloring pages for young kids: Girl with little tree
What sets us apart is not only our exclusive designs but also the convenience of our online platform for kids and toddlers. No need to worry about messy coloring pages materials or limited paper supplies. With just a few clicks, your child or toddler can access our online coloring pages and free Christmas drawings to paint from any device with internet access. It's a hassle-free and eco-friendly way to enjoy painting pages. Watch as a toddler's creativity flourishes and they create memorable online masterpieces. Let the joy of the holiday season fill their hearts as they dive into the world of reindeer, elves and Santa Claus. Happy coloring!