Online and Free Animal Coloring Pages for Kids, Children and Toddlers. We are a team of dedicated designers who have created a safe and secure free platform for children and toddlers to enjoy online coloring activities from any device. With each passing day we continue to grow by adding more and better online coloring pages and animal drawings to paint for toddlers, boys and girls all available for free and online. With our carefully designed animal coloring pages and drawings to paint children can explore the world of colors and enhance their motor skills while learning about various animal species.
Online princess coloring pages to paint for toddlers: Princess riding horse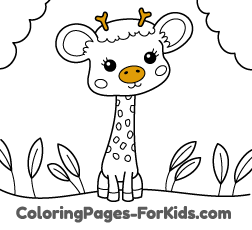 What sets us apart from other sites is our exclusive free collection of online coloring pages for toddlers and animal drawings to paint that you won't find anywhere else. Our team of experienced designers has spent years curating a diverse range of online animal coloring pages for kids, including the adorable baby giraffe to color. These unique illustrations are sure to capture the imagination of children and young kids and keep them entertained for hours.
Free Christmas drawings to paint for young kids: Reindeer
Online animal coloring pages for young children to paint: Baby giraffe
We understand the importance of creating a worry-free environment for parents. When your young children or kid engage with our online coloring pages and animal drawings to paint, you can rest assured knowing that they are in safe hands. Our free site ensures a secure and child-friendly browsing experience, so parents can have peace of mind while their toddlers transform into budding artists. With just a few clicks, they can choose their favorite online coloring page for toddlers and kids, select vibrant hues and paint away to create their own masterpiece.
Free animal coloring pages for young children: Little lion
With over 12 years of experience we take pride in delivering the best online content to paint for children with the coolest drawings. Our commitment to providing high-quality free coloring pages and animal drawings to paint has made us a trusted resource for kids, toddlers, parents and educators alike. We constantly strive to improve and expand our free collection ensuring that children and toddlers always have something new and exciting to explore on our drawing page to paint site for young kids. We have struck the perfect balance between entertainment and education. Our online coloring pages for young children and toddlers not only provide a fun and creative outlet for kids but also contribute to their cognitive and artistic development.