Welcome to coloring pages for kids, where imagination knows no limits. Here you will find a wonderful free collection of online coloring pages to color and drawings paint designed specifically for kids and toddlers. Our aim is to provide a delightful online experience that sparks creativity and joy in young hearts. In this particular theme, let's explore the magical world of a jumping unicorn surrounded by sparkling stars.
Free animal coloring pages for kids to paint: Squirrel
Unicorns have captivated the imaginations of children and toddlers for generations. These mythical creatures are often associated with purity, grace and enchantment. Our online coloring pages depict a unicorn drawing in mid-air gracefully leaping across the page to color and paint. Its majestic presence is enhanced by a backdrop filled with twinkling stars creating a beautiful ambiance.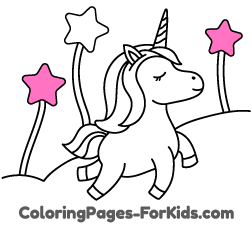 Free unicorn drawings to paint online for young kids: Unicorn under the Stars
The beauty of our online coloring pages and free drawings for kids and toddlers to paint lies in their intricate designs and attention to detail. Each line and curve are thoughtfully crafted to stimulate the artistic expression of young minds. Children can unleash their creativity by choosing from a wide array of colors to bring these magnificent online illustrations to life. From soft pastels to vibrant hues, the possibilities are endless.
Online princess drawings for toddlers to paint: Princess in the tree
We understand the importance of accessibility which is why all our online drawings to paint for kids and toddlers are offered completely free of charge. We believe that every child and every kid deserves the opportunity to unleash their creativity without any barriers and with free coloring pages. We take great pride in providing a vast free collection of high-quality online coloring pages for children and toddlers that can be enjoyed by all.
Online unicorn coloring pages for young children: Unicorn with mushrooms
So, whether you're a parent, teacher, or caregiver, our free website is the perfect destination for fun and educational coloring pages online for all kids and toddlers. Join us on this magical journey as we bring unicorn drawings to life with vibrant colors and radiant stars. Let your kid's imagination soar as they embark on an enchanting coloring free adventure with our beautiful unicorn drawings to paint for children. Enjoy our free and online coloring pages for kids and toddlers.