In our free site you can find a delightful collection of online drawings to paint and free princess coloring pages for kids, children and toddlers. Our free platform offers a safe and secure online environment for children to paint and create beautiful artwork from the comfort of any device. Let your child's imagination soar as they explore our free collection of princess drawings to paint, unicorn pictures to paint, animals, delicious foods, online Christmas coloring pages and more for kids, toddlers and young children.
Online Christmas coloring pages for toddlers: Snowman
With so many options your child will never run out of exciting drawings to paint. One of our popular online coloring pages features a princess climbing a tree. This enchanting image allows children to immerse themselves in a free world of fantasy and adventure. They can bring the princess to life with vibrant colors, creating their own unique masterpiece. Our online site is designed to provide a user-friendly and accessible coloring page experience for toddlers, young children and kids of all ages.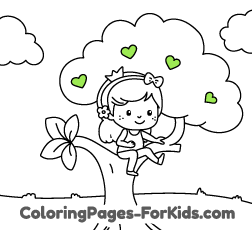 Free Princess drawings for young kids and online coloring pages to paint: Princess climbed the tree
As parents ourselves we understand the importance of providing a safe and appropriate environment for young children and toddlers. Rest assured that all our free coloring pages are carefully selected and designed with age-appropriate content, ensuring a positive and enjoyable experience for your little artists. To enhance the coloring pages online experience we offer a beautiful and extensive color palette for painting the best princess drawings for free. With a wide range of colors at their fingertip's children, young kids and toddlers can experiment and create stunning combinations. They will learn about different shades, tones and hues while developing an understanding of color harmony.
Online princess coloring pages for young kids: Riding a horse
Our online drawings to paint and coloring pages site provides an educational aspect to coloring pages. We encourage children and toddlers to explore the meaning behind colors. For instance, the color blue symbolizes tranquility and calmness. By incorporating this knowledge into their artwork, children and young kids can express their emotions and feelings through color choices further enhancing their artistic abilities. Enjoy the coolest online princess drawings to paint and free coloring pages for young kids and toddlers.