Enjoy and discover our wonderful collection of online and free Christmas coloring pages and drawings to paint specially created for kids, young children and toddlers. Get ready to immerse yourself in the festive spirit and add a touch of color to this joyous season. Online and free Christmas coloring pages for kids, children and toddlers with Snowman and kid drawing. With years of experience in creating online drawings to paint and free coloring pages for toddlers we have honed our skills to ensure the best possible experience for young artists.
We believe in providing a wide variety of themes for coloring pages for young children and free drawings to paint to cater to every toddler's interests and preferences. Alongside our online Christmas collection we offer an array of other exciting free drawings to paint themes such as unicorns, animals, food, princesses and more. Let your kid's imagination run wild as they explore these diverse options and create their own colorful masterpieces.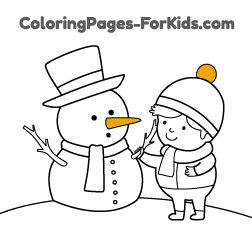 Free Christmas drawings for toddlers to paint: Snowman
At our online coloring pages and drawings to paint free site we take pride in offering unique and original designs that you won't find on any other online coloring page for kids and toddlers platform. Our team of talented artists has created exclusive Christmas-themed coloring pages and free drawings to paint featuring a delightful image of snowman and kid enjoying the winter wonderland. Choose from a wide range of vibrant colors. These drawings online are sure to bring warmth and cheer to your child's online experience. Join us and enjoy the spirit of Christmas.
Online Christmas coloring pages for young children: Reindeer
Christmas is a magical time of year and our unique selection of online coloring pages for children and free drawings for young kids and toddlers reflects the festive spirit. From adorable elves to lively reindeer, jolly Santa to whimsical snowmen, our free collection captures the essence of the holiday season. Let your toddler's imagination soar as they color these delightful free Christmas drawings to paint and create memorable holiday-themed artworks. This is the best place for kids and toddlers with the coolest free drawings to paint and online coloring pages for young children.