Get ready to embark on a coloring adventure with our adorable penguin drawing and explore the most popular and beloved online coloring pages enjoyed by children and toddlers all around the world. Free animal drawings to paint have become a global sensation and we are proud to be at the forefront of this trend. With just a few clicks children and young kids can access our free drawings to paint site from anywhere, anytime and enjoy hours of entertainment and artistic exploration with the coolest online coloring pages for young kids and toddlers.
Free princess drawings to paint for young children: Princess writing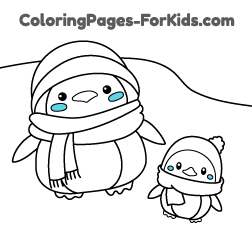 We take immense pride in being a trusted source of online animal drawings to paint for kids, young children and toddlers for over 12 years. Our dedication to delivering high-quality online content has made us a go-to resource for parents, teachers and caregivers seeking entertaining and educational activities for children, toddlers and kids. We are constantly expanding our free collection of online animal drawings to paint to ensure that kids and toddlers always have access to fresh and exciting coloring pages.
Free animal coloring pages for toddlers to paint: Penguin
Discover the trendiest and most popular online animal coloring pages and free drawings to paint for kids and toddlers. Experience the healthy benefits for young minds. Explore our unique and original free designs that you won't find anywhere else. Join the excitement of the online page world. Find the coolest drawing to paint for free on our site.
Online Christmas coloring pages for toddlers: Santa's house
Get ready to unleash their artistic talents and create unforgettable masterpieces with our online and free animal coloring pages. Don't miss out on the fun. Visit our painting free site now and let the coloring pages adventure begin. Join us on this colorful journey and unlock the endless joy. Visit our animal drawings site today and let your child's imagination soar with the best online coloring pages for kids, toddlers and young children.
Free animal coloring pages for young kids: Mother fox and son