Online and Free Coloring Pages for Kids, Children and Toddlers: Unicorn with Tulips and Under the Stars. Here, the imagination comes to life through online and free coloring pages for kids, children, and drawings for toddlers. Our team of talented designers is dedicated to providing a delightful and educational coloring experience for young artists. Let your creativity soar as you embark on a colorful journey that exercises your brain and sparks joy with the coolest free unicorn drawings to paint.
Online animal coloring pages for toddlers and young children: Puppies
As children engage in painting, they not only have fun but also exercise their brains. Our online coloring pages and drawings provide an excellent opportunity for kids and toddlers to unleash their creativity and express themselves artistically. It's a delightful and productive way to spend their time allowing them to develop their artistic skills and explore new color pages combinations with our online unicorn drawings for toddlers. Unicorns hold a special place in the hearts of children and our Unicorn with Tulips and Under the Stars coloring page is sure to captivate their imagination. This whimsical scene features a majestic unicorn surrounded by vibrant tulips all under a starry night sky to paint online for children.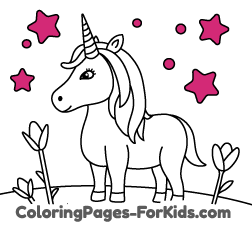 Free unicorn drawings to paint for toddlers and young children: Unicorn between tulips
With a vast selection of professionally crafted free coloring pages for kids, a safe online environment and numerous health benefits, our online website is the perfect destination for children and toddlers to enjoy coloring pages and drawings to paint. Let the kids' creativity soar as they dive into a world of colors, imagination and endless possibilities.
Free princess drawings to paint for kids: Princess on skateboard
We offer a wide range of themes to paint for kids and toddlers, including unicorn drawings, animals, food, princesses, Christmas drawings and much more. Whether your little one is a fan of magical creatures, cute animals, delicious treats or enchanting fairy tales, we have the perfect free coloring pages for toddlers and kids to suit every interest and preference. Don't miss out on the opportunity to provide your child with a fun and free educational experience. Visit our free website today and start exploring the wonderful world of painting online. Enjoy the most beautiful free unicorn drawings to paint and online coloring pages for kids and toddlers.
Online unicorn coloring pages for children to color: Stars