Online drawings to paint and free coloring pages for kids, children and toddlers. Our collection shines a spotlight on the delightful free food drawings to paint, a symphony of creativity and sweetness that will ignite the imagination of your little artists. With our in-house team of designers, a secure online environment and a perfect blend of online entertainment and education we invite you to join us in nurturing your children's artistic talents. Let's explore the joy of coloring pages online and celebrate the magic of childhood creativity together with the coolest free drawings to paint for toddlers, kids and young children.
Online unicorn coloring pages for kids: Unicorn between tulips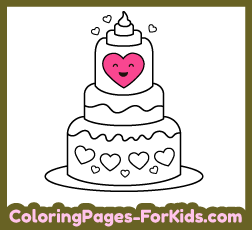 Free drawings to paint for young chikdren: Heart Cake
At our coloring pages online site for kids, toddlers and children excellence is our standard. Our dedicated team of in-house designers pour their hearts and imagination into creating original and captivating online coloring pages for kids and free drawings to paint for toddlers and children that stand out. The heart cake drawing to paint is a testament to their passion for bringing joy and creativity into the lives of young artists. Children and toddlers can transform blank pages into delectable works of art infusing their personal touch and creative flair into every stroke of color with our fun online coloring pages and free drawings to paint.
Free animal drawings to paint for toddlers: Puppies
We understand the importance of a safe environment for children, kids and toddlers to explore and play. Our online coloring pages site ensures a secure platform that parents can trust allowing kids and toddlers to freely unleash their creativity without worry. Whether accessed from a computer, tablet or smartphone our coloring pages for kids and free drawings to paint for toddlers offer a seamless and secure experience.
Online coloring pages for young children: Chocolates
With our secure platform parents can rest assured that their children and toddlers are in a safe and enriching free digital space. While kids transform into budding artists parents can relax knowing their kids are exploring their creativity in a controlled and protected environment. With our talented coloring pages design team, secure platform and commitment to blending fun with education we offer a unique artistic experience for your children. Step into a world of creativity, sweetness and joy with our online drawings to paint and free coloring pages for kids, young children and toddlers.