Our online coloring pages for kids and toddlers are between the most popular and widely played across the globe and we take pride in having a dedicated team of online drawings to paint for young children's designers. With a wide range of themes to choose from, including online unicorn coloring pages, animals, delicious foods, princesses, free Christmas drawings to paint and more, we offer a perfect blend of fun and education for toddlers, kids and young children. Give your children the same joy you experienced while coloring pages as a child, join us and let them explore the world of imagination and art with our enchanting online drawings to paint and free coloring pages.
Online unicorn coloring pages for kids: Unicorn at the pond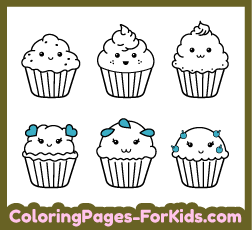 Online coloring pages for young kids to paint: Muffins
Our online drawing to paint for kids and toddlers features a charming free coloring page of muffins enticing children to bring these sweet treats to life with their artistic flair. From sprinkles to chocolate chips, each free muffin illustration offers endless opportunities for creativity and self-expression. Whether your kid or toddler prefers pastel shades or bold colors, our online muffin coloring page for young children are sure to captivate their imagination. We take pride in striking the perfect balance between play and education. Our online coloring pages for kids and free drawings to paint for toddlers provide hours of entertainment but they also offer valuable learning opportunities.
Free animal coloring pages for toddlers: Mother fox and son
Rekindle Childhood Memories. Do you remember the joy of coloring pages as a child? Now is the time to pass on that joy to your children or toddler. Our online coloring pages and free drawings to paint are not just for kids or young children, they are an opportunity for parents and guardians to bond with their little ones. Join your children in their artistic endeavors, create beautiful free artworks together and cherish the precious memories you'll make.
Online drawings to paint for young children: Heart cake
As kids and toddlers paint and create they develop their artistic skills and foster their imagination. Who knows? Enjoy our free coloring pages and maybe your young kid will become the next Picasso! Nurture their creativity and watch them grow into confident young artists. Remember, every masterpiece begins with a few strokes, just like those early doodles by famous artists. Join us on this free enchanting ride, where colors and creativity know no bounds with the coolest online coloring pages for kids and free drawings to paint for toddlers and young children.