The world of free coloring pages for kids, children and toddlers comes alive with this delicious online burger drawing to paint. We take pride in offering original and captivating online coloring pages and free drawings to paint that you won't find anywhere else. As we continue to grow over the years, we strive to provide more and better coloring pages for toddlers, young children and kids all available online and free of charge. Our platform ensures a safe and secure space for young artists to explore their creativity, and with over 12 years of experience we are dedicated to delivering the finest online content for toddlers, kids and young children.
Free unicorn coloring pages for toddlers: Sunset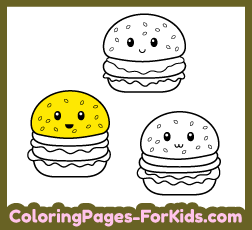 Online drawings to paint for kids: Burgues
Constant growth, more fun. As we evolve and expand we remain committed to enriching the online coloring pages experience for toddlers and young kids. Our free drawings to paint site continues to grow with new and exciting coloring pages for kids and toddlers, ensuring that children never run out of creative adventures. We carefully curate each addition to keep kids engaged and excited about exploring their artistic talents. Our drawing collection for kids and young children features a delectable array of food coloring pages, each one a unique creation that sets us apart from other online coloring pages and free drawings to paint sites.
Online animal drawings to paint for kids: Little lion
We understand the importance of providing a safe online environment for children and toddlers. Parents can rest assured that our online coloring pages site is a secure platform for their little artists to explore and create. Our focus on child-friendly content ensures that kids and toddlers can freely express themselves while parents have peace of mind.
Online food coloring pages for young children: Little ice creams
Our unique free drawings to paint and commitment to growth ensure a captivating experience for young artists. With over 12 years of delivering excellent free content with the best online coloring pages for toddlers and children, we stand as a safe and trusted platform for parents and kids alike. Let your children unleash their creativity, discover new painting adventures, and learn about the fascinating meanings of colors. Join us on this artistic journey and watch your kids flourish as they become great artists in a secure and fun online space. Enjoy our free coloring pages and online drawings to paint for young children and toddlers.