Unicorn coloring pages to print for free and color or to paint online. Our printable unicorn drawings can be an enriching activity for children. If you are looking for a way for your kids and toddlers to have a fun time where they can fly with their imagination, you are in the right place. In our children's entertainment site with printable coloring pages, you will find the best easy unicorn drawings to color online or to print for free and paint for toddlers and kids. Quality children's drawings to color or to print for free and paint exclusively designed by our cartoonists. Besides printable, your kid or toddler can paint online on the website's coloring pages. You can help your children to choose and color the unicorn picture without printing it to paper or color pens.
Unicorns are those beings that inhabit legends and fantastic children's stories that captivate boys and girls from all over the world. That is why our easy printable unicorn drawings section to print and paint or to color online is one of the most visited by children and their parents. Our unicorn printable coloring pages are a unique opportunity for mothers and fathers to accompany their toddlers and kids to paint online or print for free and color our best free unicorn drawings for kids and toddlers. Coloring our printable drawings will be an online experience that you will not be able to repeat in other online children's entertainment sites since our easy free coloring pages are unique and you will only find them in our printable coloring pages for kids site.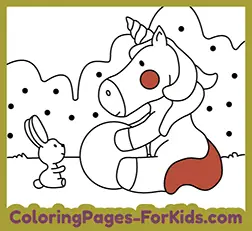 Enjoy with your children and witness how toddlers and kids express their perception of the world through colors and proudly create their little online pieces of art with our drawings. Here you will find, in addition to our collections of Christmas drawings to print and paint for free, animals to color for children, free printable princess coloring pages and more, the best and most beautiful easy unicorn coloring pages to color online and to print for free and paint for toddlers and kids.