Unicorn coloring pages to color online or free to print and paint with our best children's printable drawings for toddlers and kids. Discover this beautiful collection of unique and original printable unicorn coloring pages to paint for free. Kids and toddlers will unleash their inner artist with the best easy drawings to paint online or to print for free and color.
Unicorns are fantastic animals that appear in children's stories that enchant boys and girls. This nice mythological being is a cute flying horse with a horn on its forehead that you will enjoy printing for free and painting our easy printable unicorn coloring pages and online drawings for kids and toddlers. Unicorns inhabit many stories of fantastic worlds together with dragons, castles and princesses.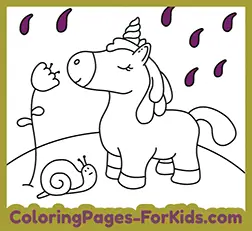 In our free coloring pages online site we've created the most beautiful unicorn drawings to print for free or to color online. In this way, children will be able to put their imagination to work through colors. You can find any of the best printable unicorn coloring pages for toddlers in this article. These free coloring pages to print and paint or to color online are both entertaining and instructional, allowing kids and toddlers to fly to a fairyland full of wonders while learning about this magical creature. Our children's printable unicorn drawings are unique and original, designed together with other coloring pages for children to color online or to print for free and paint like our printable Christmas drawings for kids, animals to color and paint, princess coloring pages to print and much more for children's online fun.
Our goal is that kids and toddlers have access to easy and quality coloring pages and drawings to color or paint, with original content that provides them with an enriching and fun activity. That is why we present this beautiful printable unicorn in the rain drawing to color online or to print for free and paint.