Unicorn coloring pages to color online or to print free and paint with our best drawings for kids and toddlers. Here you will discover a beautiful collection of original and unique printable coloring pages for children. Kids and toddlers will make their inner artist flourish with the best easy printable drawings to paint online or to print for free and color.
In addition to our sections of free Christmas drawings to color for children, printable animal drawings to paint and print, printable princess coloring pages for toddlers and kids and many more, we present these beautiful creations of printable unicorn coloring pages and drawings to color online or to print for free and paint that you will not find on other online children entertainment sites. We all know about the fascination that unicorns provoke in kids and toddlers. Unicorns are the mythological animals of the universe of fantastic stories. This nice mythological being is a flying horse, which also has a horn on its forehead and that you will enjoy coloring online or printing for free and painting. Unicorns inhabit the fantastic worlds stories along with princesses, castles and rainbows. In our printable coloring pages online site we design for all children original unicorn drawings to print for free and paint or to color online for kids.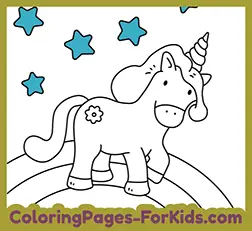 Thanks to our easy children's printable drawing pages, toddlers and kids will spend a time of creativity and fun with an enriching activity. Through it, children will be able to express their vision of the world and their imagination. The printable unicorn coloring pages on this page are designed for children of all ages, from little preschoolers and toddlers to big kids who enjoy coloring in and are looking for detailed and challenging pictures to print and paint or to color online. Enjoy with us the most beautiful unicorn coloring pages and printable drawings to print and color or to paint for free online.