My 4 year old son has great moments painting these drawings.
My 3-year-old grandson likes these coloring games, it's amazing how he learned to use the mouse. Thank you!
My son really likes to paint these drawings, we print them and he has them hanging on the wall of his room!
Free coloring pages for kids. Online and printable car drawing. Discover our beautiful free printable coloring pages and drawings for any age of kid: 2, 3, 4, 5, 6, 7, 8 years old. All the children can find pictures of transport for his age. Be amazed with the meaning of colors. The colors play a very significant role in our lives, whether we know it or not. They have the capacity to affect our moods and emotions in a way that few other things can.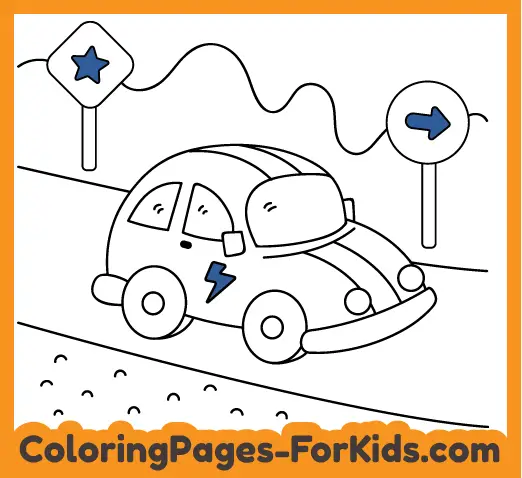 Below we describe the meanings of some of the colors that children and toddlers use to paint our online and printable coloring pages. Red: Energy, danger, power, authority, love, Christmas and Valentine's Day. Brown: Earth, simplicity, hearth, nature and autumn, outdoors, reliability, comfort, endurance, stability, home, comfort and trees. Orange: Fun, flamboyant, enthusiasm, creativity, vitality, warmth, enthusiasm, expansion, autumn and Halloween. More colors with our free online and printable coloring pages and free drawings to print for toddlers. Purple: Wealth, spirituality, wisdom, success, transformation, royalty, ceremony and mystery, Yellow: Youth, summer, positivity, happiness, sunshine, idealism, imagination, gold and hope. Color with free online and printable coloring pages and drawings to print is essential and not just for us and our toddlers. Quantity of animals use it to guide their lives. From fish to plants, parrots, butterflies, peacocks or frogs, they all use coloration to send different indications to each other and set meaning to it. Our online coloring pages are amusement for children of all ages and are an excellent educational tool that aids kids and toddlers develop fine motor skills, color recognition and creativity. Online and printable free coloring pages for kids by Coloringpages-forkids.