Printable coloring pages to color online or to print for free and paint that will make kids and toddlers concentrate and have a fun and productive time. Free transport drawings to print and color or to paint online. Just as when children exercise their body their muscles get in shape, the same thing happens when they paint these easy printable drawings to color online, since this online children's coloring pages makes the left hemisphere of their brain work hard and develop their children's abilities. That means that with our printable drawings and coloring pages to print and paint, their logical reasoning and concentration will increase with the benefits that this will bring them in the daily and school life of toddlers and kids.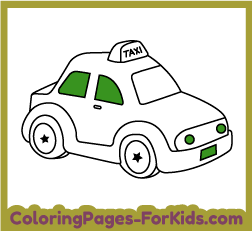 Here you can explore our extensive printable coloring pages for kids collections. They're all free for you to download and print in high-quality. In our free coloring pages site for kids and toddlers we take care of constantly creating the most beautiful printable transport drawings to paint online or to print for free and color. Our drawings for girls and boys are our own, original and you will not find them on any other online children's entertainment site. In addition to the category of children's transport drawings to color online or to print and paint for free, we have created other printable coloring pages categories that will attract the attention of kids and toddlers for their quality and beauty. Unicorn drawings to color, animals to paint for kids, printable princess coloring pages to print or Christmas drawings for toddlers to color online are other categories that contribute to the fun and learning of your children.
Accompany your kids and toddlers in the magical moment of coloring our free drawings and you will discover the little artist they have inside. Taxi drawing to color or print for free and paint. Here you will always find the most beautiful printable coloring pages to color online or to paint for free and print for children.