Princess drawings to color online or to print and paint for free. Quality children's printable coloring pages with their own drawings for kids and toddlers. In our children's entertainment site we develop these printable coloring pages so that children have the opportunity to color and paint, express their art, their vision of the world, through colors, painting and imagination.
We have princess coloring pages to paint online and to print for free and color. Designed by expert cartoonists who offer children's printable princess drawings online for toddlers and kids to print and paint or to color online, in addition to many other topics such as easy printable Christmas drawings, unicorns coloring pages to color online, free animal drawings and much more for boys and girls. Always thinking about the quality and originality of our free coloring pages for children so that kids and toddlers have a pleasant moment that also enriches them.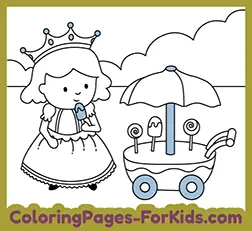 Our world of printable princess drawings to paint and print for free is not the same that you will find in other sites of printable coloring pages to paint and print. Here the princesses have an active, modern life in keeping with our times. Kids, toddlers and girls will immediately identify with our characters in different situations such as free princess coloring pages online or free printable princess designs where the princesses play with their dog, do sports or play the guitar. In this case we present a beautiful children's princess drawing to color and paint where the protagonist enjoys delicious ice cream like any child. In our online coloring pages site we design for toddlers and kids, the most beautiful printable drawings to paint online or to print for free and color.