Painting our original princess coloring pages to color online or to print for free and paint is a unique activity for kids and toddlers. In our printable coloring pages free site we have created the most beautiful children's drawings of princess to color online or to print for free and paint at home. All thinking about online children's entertainment and the development of kids and toddlers from 2 to 6 years old. We are the kid's entertainment online site most sought by families so that their children enjoy the best free coloring pages.
On our children's online entertainment site with coloring pages for free printing and painting, we have many sections with the favorite children's drawings for toddlers and kids from 2 to 6 years old. We present unicorn coloring pages to print and paint, printable foods to color, free animal drawings for toddlers, Christmas coloring pages online to color and much more for toddlers and kids. To these sections of printable coloring pages we add our own collection of printable drawings of princess to paint online and to print and color designed for children.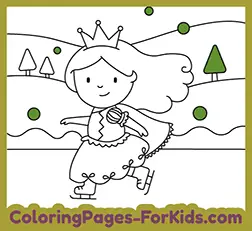 The princess coloring pages for children that we design are an opportunity for toddlers and kids to unleash their imagination, learn about colors, learn to combine them and thus develop their cognitive and creative abilities. Kids will be able to create their own works of art with the most beautiful printable princess drawings to color online and to print for free and paint. In this case we designed an original drawing of a princess skating happily that will bring a smile to the children. Be sure to enjoy and share these unique and personal coloring pages for children with the best printable princess drawings to paint online and free to print and color for kids and toddlers.