Painting our original princess drawings online or to print for free is a unique experience for kids and toddlers. In our printable coloring pages online site we have created the most beautiful children's drawings of princesses to color online and to print for free and paint at home. All thinking about online entertainment for children and the development of kids and toddlers from 2 to 6 years old.
When children paint and color a princess drawing, they don't just paint her, they also color her world. We have created in our site of children's entertainment and printable drawings to paint online or print for free for boys and girls, several sections such as Christmas coloring pages to color, animals, unicorns drawings to paint and much more. But without a doubt, one of the most sought-after children's sections is the printable coloring pages of princesses to color and print. In it, girls and boys will discover princess drawings to print for free and paint or color in very different situations that make them protagonists of their universe. They will share their emotions and enjoy the cuteness of our best free coloring pages to print and color. Color our princess drawings for kids and toddlers.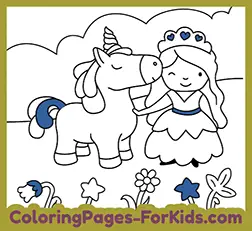 This online princess coloring page is very special since it adds a unicorn drawing, thus combining two of our most requested children's sections, giving a special tenderness and beauty to this free printable princess coloring page to color for free for kids and toddlers. These printable coloring pages to paint online or to print and color for free are original and unique for kids and toddlers. This means that you will not find them anywhere else for children's online coloring pages for toddlers and kids. So get ready to enjoy here the best, the most beautiful, printable princess coloring pages online and free to print and paint for children.