Color our food coloring pages online or free to print and paint will be a unique and fun artistic activity for kids and toddlers who will have the opportunity to entertain themselves and enjoy some time filling the best printable drawings for children. In our printable coloring pages online site for children we have the mission to create the most beautiful and original easy drawings to color online or free to print and paint for toddlers and kids.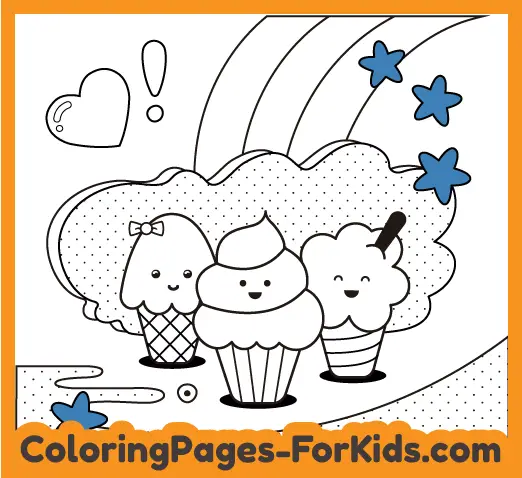 Free coloring pages for kids: Ice creams drawing
Ice cream printable coloring pages to color online or to print for free for kids and toddlers. Our easy drawings online or to print for free and paint are an excellent opportunity to share a didactic children's activity with boys and girls. It is highly recommended to help your kids or toddlers to paint and color at first. Children should understand the limits of our drawings online or also free printable to paint. You will have to explain to them that they don't go over the lines. You can also help kids to select the colors to use with our coloring pages and drawings. In the event that your kid is old enough, you can talk to them about warm colors, cold colors, how to combine them and thus undertake with them this playful and educational children's activity of coloring printable drawings online or painting free coloring pages at home. Your children, kids or toddlers will enjoy pleasant moments with the best printable coloring pages to paint and print for free and will be able to express their artistic side as well as their way of seeing the world.
In our printable coloring pages free site for kids and toddlers and online children's entertainment free site, we focus on creating easy drawings to print for free and paint that are original and that you will not be able to find in other sites dedicated to toddlers. In this case, enjoy our original ice cream drawing to paint online or to print and color for toddlers and kids.