My daughter is 3 years old and enjoys painting online.
Hi, I wanted to say that I am 4 years old and I love this page!
I like it a lot because I entertain myself and learn many colors.
I loved the drawings, my children had a great time and fun.
Online Christmas coloring pages. The coolest free printable drawings for kids. Christmas Teddy bears. So it's Christmas time once again! Time to taste the delicious cakes and puddings, sing carols, decorate the Xmas tree and paint with our beautiful Christmas coloring pages and drawings for toddlers to print and paint or color. It's that mystical time of year again: The weather outside grows colder, bright lights start shining in the trees, and the kids in our life grow ever more anxious for the coming of Santa Claus. What better form to celebrate the holiday season than by cuddling up with our children and color our fun online and printable drawings for kids. People start with Christmas ornamentations early, that is as early as November mids.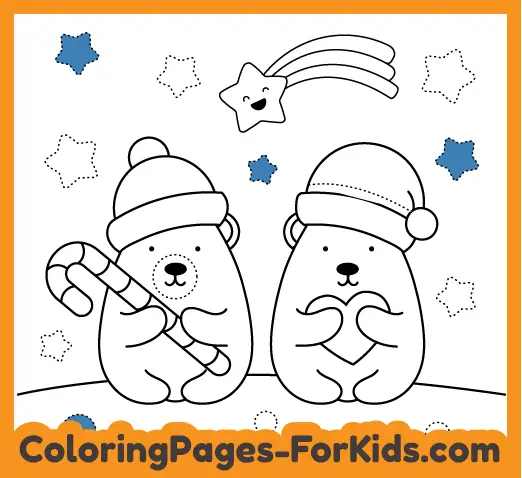 Many families decorate their houses with sparkling displays and fairy lights or our drawings for toddlers to print and color or paint and free online and printable coloring pages for children. On Christmas Day, families get together for a celebratory meal after exchanging presents. On Boxing Day, the 26th of December, family and friends are usually visited. It is traditionally to send and give Xmas cards with Christmas coloring pages for kids. Some persons write on cards: Merry Xmas! Xmas stands for Christmas, the X it means the cross. Enjoy our online and free printable coloring pages. Christmas is the most famous celebrated festival world over, and also the most popular festival globally for kids. So, to calm children's anxiety, what better than painting with our online and printable Christmas free coloring pages for kids.