Printable Christmas drawings to paint online or to print for free and color with the most beautiful children's coloring pages created for kids and toddlers from 2 to 6 years old. Our Christmas printable drawings to color and free coloring pages are thought of as a contribution to the Christmas atmosphere, children's favorite time, so that they can paint and color happily while the day of Santa Claus and the awaited gifts is approaching. Our easy online coloring pages, free printable Christmas coloring pages and online drawings to paint are also available the rest of the year for kids and toddlers to enjoy the best children's entertainment.
Paint and fill with life all the Santa Claus printable coloring pages, Christmas trees, and all our kids Christmas drawings to color online or to print for free and paint that you want. You can place them in your room, on the tree. Our free printable Christmas coloring pages are the ideal online opportunity for children to color and have a nice detail with their elders. Any drawing you select for your child will be received in a special way. Easy Christmas coloring pages to color online and to print for free and paint will be the stars of the tree and here we have them all available for children, kids and toddlers. Enter our online children's entertainment site with the best easy printable coloring pages to color and print and let your kids be the ones to fill the world with joy by painting every corner of the tree.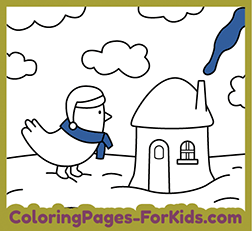 In our printable coloring pages online site for kids and toddlers we offer you the best easy Christmas drawings to color and free to print and paint we offer several categories with the most original children's free drawings. Children, kids and toddlers will find princesses free drawings, unicorn printable coloring pages, animal drawings online for toddlers and much more, always with their own and original material to create the most beautiful printable drawings to color online and to print for free.