Printable and online free animal coloring pages for kids in Coloringpages-forkids. The little pig. Your kid will have a fun time letting their creativity flow while color in one of our printable and online drawing to color and paint. Here's the top benefits of colouring with our cool designs. A child's creativity and imagination is a lovely wonder and paint can offer the perfect principle for this to be expressed. Give kids and toddlers the same free printable animal colouring page or drawing and no two will be the same.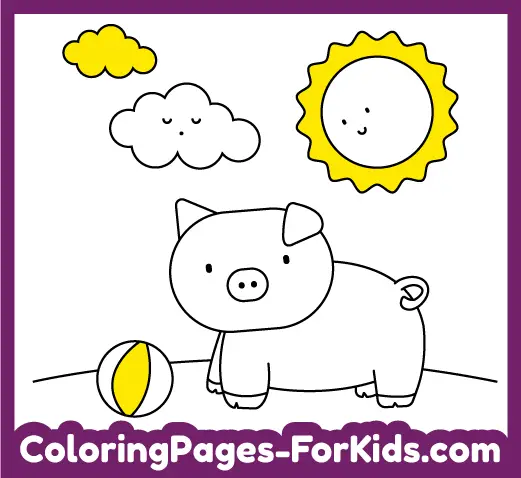 Best coloring site ever. Interactive and fun. Beautiful for kids. Good work!
Excellent colouring site for kids. These drawings increase creativity.
My 3 year old granddaughter absolutely loves this coloring site. Easy and fun.
It looks like a very good site. It is just perfect for toddlers and they can learn colors.
This free flow of creativity can unlock all kinds of imaginative labour that can take your child anywhere as they learn and get bigger. It may even inflame what could become a lifelong passion. You may discover that you have the next Van Gogh! Every human being expresses themselves diversely, and many kids are visual in nature. Coloring with our beautiful free online drawings is a perfect vehicle for self expression as well as developing their creativity as children and toddlers take color decisions and expand the limits of an online coloring page, book or sheet. Color or paint is the best way for kids to start to develop planning skills. They have to learn many steps when they are completing an online colouring page or printable animal drawing, from what primary colours to use, in what order and what funny decoration to add to their color fills. All of this needs a simple plan and this will aid them throughout the rest of their life through learning. Enjoy the best online animal coloring pages and free printable coloring pages for kids of all ages on Coloringpages-forkids.