Easy animal coloring pages online or free to print and paint: Monkey. Here you will find the most beautiful and original online animal drawings for children to paint. Dedicated to kids, boys and girls to provide a fun, relaxing and educational activity. The monkey drawing can be downloaded and printed for free to paint at home or directly color online.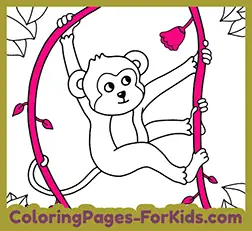 Kids will not only have fun with our beautiful easy free printable coloring pages and drawings but will also benefit from the advantages that painting animals provides. Through painting our easy online drawings and free to print animal coloring pages, children, toddlers and preschoolers can discover a universe full of imagination, fun and creativity. The perfect age for children to start coloring pages is very early. When the kid can hold a pencil, a brush or in the case of coloring online, the mouse, we can initiate him in this fantastic task that will enhance and develop his most creative side.
Our children's drawings of animals online and free pages to print and painting stimulates in toddlers and preschoolers sensitivity, creativity and improves children's expression. It is very good that we foster children's curiosity for colors, for playing with them, because this way kids will have the opportunity to reflect the world around them as they perceive it. In short, with our online animal coloring pages to print for free or with our easy drawings to color online for kids, toddlers and preschoolers will find an excellent way to have fun and develop.
Our designers strive to create for children the most beautiful and educational easy animal coloring pages to color online or to print for free and paint.