Animal Coloring Pages: Hippopotamus. Children's site with the best drawings to print for free and paint and online coloring pages for kids. Enjoy painting the most beautiful online animal coloring pages for preschool, kindergarten and elementary school children and toddlers.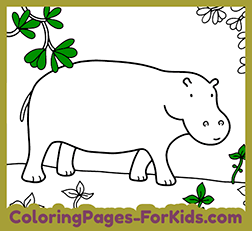 Who can forget his childhood between pencils, crayons, colors and drawings? Almost all of us as children have enjoyed the game of painting and coloring animal pages. We sat in front of a piece of paper, a book or a cardboard and we gave free rein to our creativity and imagination by painting and coloring. Today, in addition to painting drawings on paper, technology offers the free opportunity to take advantage of easy kid's drawings of animal pages to color online or designs to download for free and print to paint.
The animals of the jungle are beautiful, large and attract the preschool kid's attention. Nothing better for them than to be able to paint them with the best online animal coloring printable pages for preschool, kindergarten and elementary school children. Drawings can also be downloaded for free to print and paint at home.
Coloring drawings is undoubtedly a very entertaining kid's game that many toddlers enjoy, but do we know all the benefits that coloring easy online printable drawings and printing pages for free provides to boys and girls?
One of the many benefits of painting online for preschool children is relaxation. This is so because it allows avoidance and expression of feelings. Coordination of movements is developed and this will have a very positive impact on tasks such as writing. All this in addition to the free online fun and the healthy moment of children's play that will happen.
For all this we strive to create the most beautiful children's drawings to download and print for free and the most original easy animal coloring pages online for toddlers and kids.