Animal coloring pages for kids: Giraffe. In our online children's site we are dedicated to creating the best easy drawings to color online or to print for free and paint for kids, toddlers and preschoolers. The giraffe coloring page will undoubtedly be a fun educational activity with all the benefits that the exercise of painting animal drawings online brings to children.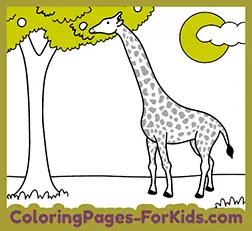 Creativity in kids is an indispensable development and expression mechanism in the early years. The game of coloring easy animal drawings or print for free to paint at home gives children the opportunity to have fun and reflect through colors their perception of the world around them. In this case we concentrate on easy animal drawings to paint online or to free print.
Among the children's animal printable coloring pages to paint online and for free, one of the favorites and that most draws the attention of toddlers and preschoolers is the giraffe. Its unique shape with such a long neck is what makes it so special and attractive to both boys and girls. They could enjoy our printable giraffe coloring page.
That is why children will not hesitate to sit and color such a beautiful animal, spending an educational and fun play time thanks to our easy giraffe drawing page to color online with the option to download it for free to print and paint at home.
Coloring pages for kids, toddlers and preschoolers in the best place for children to have fun and educate themselves.
In our children's site our designers concentrate on providing the most beautiful drawings to download for free, print and paint or the best online animal coloring pages for kids.