Coloring pages online or to download and print for free. The most beautiful animal drawings to paint: Elephant. On our site you will find the best animal designs for kids, preschoolers, toddlers and easy children's online and free coloring pages to spend an entertaining time full of games, learning and benefits.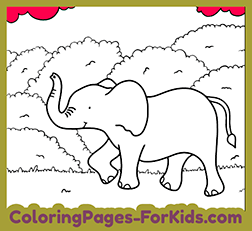 One of the ways to activate children's fine motor skills and hand-eye coordination is to use colored pencils or the online mouse and, through this game, kids can develop their creative abilities by giving life to our easy online animal coloring pages or free animal drawings to print and paint. It is not necessary for children, toddlers and preschoolers to know how to draw, color or paint online because these aspects are carried out through our free printable coloring pages.
Our coloring pages to print are a game for toddlers and preschoolers and a very entertaining and educational activity for girls and boys. When a kid sits down to color online or paint after free printing, they are enjoying and learning to decode and understand the world around them. Through their drawings and the colors they decide to apply, children learn to express themselves. Kids also learn the value of practice, effort and concentration when they play with the best printable coloring pages for toddlers and preschoolers.
In our children coloring pages site we develop for this the best designs for free printing and painting and easy animal drawings to color online. In this case we present the online elephant drawing, a wonderful and striking animal both for its size, its trunk and its good face that attracts the attention of both boys and girls.
Here you will find the most beautiful easy drawings to print for free and paint as well as online children's animal coloring pages.