Online animal coloring pages and drawings to print for free and paint at home: Crocodile. In our coloring pages children's site , boys and girls will be able to enjoy coloring the best and cutest printable animal drawings for free. You can color online or download the easy animal drawings to print and paint at home thought for kids, toddlers and preschoolers.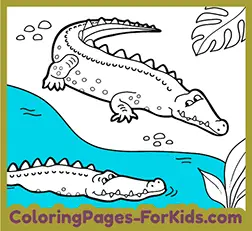 If there is an experience that we have enjoyed as kids, it is the children's game of animal drawings. That magical time when we sat with a blank paper in front of us and released our imagination. Drawing and then painting was a liberating children's activity that allowed us to reflect the world as we perceived it and play to change it as we pleased with crayons, markers and pencils. Today there are many benefits that we know of this playful and educational activity with free printable animal drawings to paint online and or to print that we can promote in our kids, toddlers and preschoolers.
Online animal coloring pages and painting free printable pages are much more than having a good time, it's a children's game that is full of advantages for kids, toddlers and preschoolers. The first thing is to understand that through the experience of painting drawings or online coloring pages for free, children stimulate psychomotor development through knowledge and emotions.
When kids play with our online coloring pages or free printable animal pages for children and when painting our designs, they discover new alternatives, investigate and are encouraged to understand the effort through practice. It is much more than the game of using colored pencils. It is painting, playing, perceiving, transforming and, after all, developing.
In our children's site we have created the most beautiful animal drawings to color online and the best online coloring pages to print for free and paint for kids.